Mestizo - Dream State out now!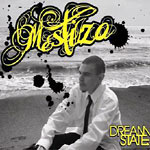 Solid album from the one and only Mestizo. What I always loved about Mestizo was his ability to be poetic with out being soft. Check some songs out on his myspace page.

Now just wait til the Joe and Zo shit drops!

Mestizo - Dream State
(CD) Galapagos4 G4CD0043, 2007-09-18
CD Tracklisting:
01. Rumble Fish
02. Coast Guard
03. Solid Gold
04. PrettyBoy Zoid
05. Back Wash Feat. Joe Dub & 2Mex
06. Suzy Q
07. Confrontational Act
08. Tolerance Feat. Qwel
09. Sup' Girl
10. Please & Thank You
11. Beat Flip
12. Creative
13. UMCCC
14. Even Feat. Isiah & Murs
15. Continental Half Time
16. Time Card
17. In The Clouds
18. Spare Change
19. Live
20. Rosie
21. Disclaimer
22. Laughing
23. See Me Out
After a 2 year hiatus, a core member of Galapagos4's West Coast operation, MESTIZO, is back with his official homecoming album. "Dream State" is MESTIZO's interpretation of his native land of California, which is a dream world in itself, filled with eccentric beings entranced in a dream state.
This album is entirely produced by the new super duo Julian Code, made up of Sean Julian (best known for the highly successful Psych Rock LP "Trap Door" on Groove Merchant Records) and DJ Morse Code, the San Francisco native better known for his club monster DJ status as part of the Super Friends crew. DJ Morse Code has also been caught DJing side by side with DJ AM, Steve Aoki, A-TRAK and The RUB DJ's to name a few, but here he is letting the world in on his gritty 12-bit SP-1200 production style.
MESTIZO has gained tremendous respect from his peers and elders alike as a passionate writer, amazing performer, and stern leader of the next generation of artist. Lyrically, MESTIZO teamed up with JOE DUB, ISAIAH, QWEL, 2MEX AND MURS and although, DREAM STATE is an album that needed no features, each individual that contributed to the album gladly added to its magnificence. Together they have created classic duets in honor of the golden state sound. MESTIZO embodies the true sound and style of a California heavy weight and is sure be a mogul to many and this album the future blueprint of how the West Coast Rocks.
http://www.myspace.com/mestizoid