S.F.S.M. - San Francisco Street Music page [facebook]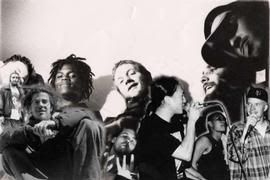 Join Chaz's S.F.S.M. (San Francisco Street Music) page on Facebook. Not only are there a ton of old pictures and scans but also some new music! Fan photos welcomed!
San Francisco Street Music (SFSM) was an underground hip-hop group in San Francisco during the early to mid 1990s. Originally formed by Corey Harris and Charles Hurbert in 1994, SFSM's music was defined by their highly personal lyrics and emotionally charged beats.
Following the self-produced "Word o' Mouth" album (cassette) in 1995, SFSM became a collective of other local artists such as Joe Dub, Jes (Who Cares?), AC75 and many others. "Still Defiant" was released in 1996 as a compilation of songs and snippets recorded during 1995 and featured artists such as Big Shawn (Bored Stiff), Shon Rich (7Gen), Po' EM (Knot Tight), as well as many others. 1995-1998 saw the relase of multiple off-shoot albums such as "The Pride," "The Money Tree," "Coincidentals & Instrumentals," "Skool of Thought," "Noise Pollution" and "From There To Here."
While SFSM never realized broad commercial success, they were considered by many one of the more unique and overlooked groups to emerge from the West Coast underground scene.
link