brand new ATAK mailorder site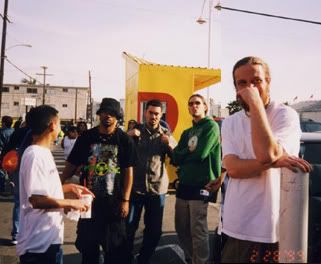 ATAK mailorder has stepped up it's game, with a brand new searchable site; featuring full color cover scans and detailed descriptions.
ATAK was one of the first underground mailorder spots, taking a DIY approach to music distribution and taste making, to a new level. Paul Gembus a.k.a. P-minus spearheaded the project, which in my opinion, was instrumental in informing the masses of the quality homemade music that was being made right in their backyards.

In those halcyon days, when music was amazing but disorganized, i.e. artists selling tapes straight out of their cars and backpacks, P-minus provided a structure that allowed for the scene to thrive in the Bay Area and beyond.
"ATAK Worldwide (which has since morphed into truehiphop.com) was created as a resource for underground hip-hop groups and DJs so that they can focus on their art and ATAK could focus on their business. This was a small, grassroots operation designed to gather, organize, and distribute tapes and vinyl (and eventually CDs) from the artists and hopefully reach new listeners locally, nationally, and eventually, internationally. A mail order catalog was constantly updated as new music and artists joined the ATAK family, and this catalog was available at Bay Area record stores and hip-hop related shops, plus it was sent to contacts across the country."
On a side note, and almost as important, ATAK also provided a place for the heads around the world to start networking in the early days of 56k dial up. The message board was responsible for many a musical collaboration, innumerous cross country trips, and 6th generation dubs from Honolulu to Finland.
The impact of such an idea can't be overstated. I think in an age where there are now dozens of underground hip-hop online mailorder shops, it's easy to forget where it all began. See where it began.......
Atak