Review of Easy Rider 7"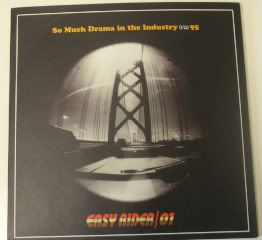 Ripped Open By Metal Explosions
blog recently posted a really great review of the ancient
DJ Marz / Joe Dub - So Much Drama In The Industry / 95
seven inch which was released in 2002 and promptly sold out. You can read the review
here
.
From the official press release:
After almost a year of set-backs that included the evils of Drugs, fast women, health problems, Broken down cars, false promises, cocaine abuse, unemployment, thousands of Red Bull and Vodkas and Hypnotic cocktails, doing doughnuts and almost wrapping into a KFC and all the other influences that we have to inspire us to make music (that will be documented in the Easyrider DVD: Behind the Music)....at long last it is here.
"....already a classic.." - Vapors magazine
"....This shit is cool though..." - Londa B.
For the record, the pressing of this release was indeed minuscule, limited to 300 copies worldwide and most of that given away to friends. In fact, the only copy we have is half eaten by our dogs, so if anyone wants to sell us a copy, hit us up.

For those who don't know the ROBME blog is run by Luke Sick of Sacred Hoop and his partner Eons One. It provides an incredible wealth of information about hip-hop, specifically Bay Area rap, though like the Asita blog, keeps it eclectic with whatever they find to be interesting. They also demonstrate what a blog should be about....original content, original thoughts, and lots of crazy back stories.
READ THE REVIEW