Convenience Store - Neila, Tommy V, and evs CD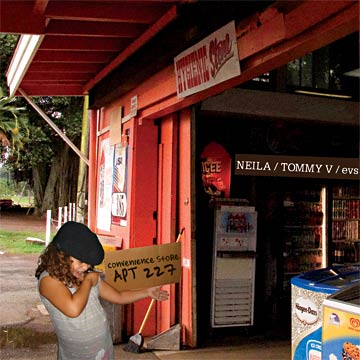 If you are looking for a return to the classic La2thebay sound then this is the cd for you.
What people are saying [via
la2thebay.com
] :
convenience store-apt.227??? the best la2thebay release i have heard in a real long time. each of evs's beats are gems. the evs and ceschi track "handicap" is on my all time favorite song lists. the rest of the album is very good and highly recommended. there are some funny skits on the cd also. props to tommy v. and neila too.
true, great job on that release.
EVS just confirmed his genius. The guy does whatever he wants with the beats, and he does it good. Favorite tracks - Seeitinyou, the one with ceschi of course Can't Wait, What's Your Name...
really happy i bought it.
1.
Intro
2.
What's Your Name
3.
Just People

(feat. DJ Norm Rocwell)

4.
Concrete
5.
Seeitinyou
6.
Cowboy Song (feat. Maleko / Joe Dub / Ceschi)
7.
Handicap Signs (feat. Ceschi)
8.
Can't Wait
9.
Wheel Barrel
10.
Papa Was a Rolling Stone

(feat. Raj)

11.
Smile
Listen
Available in our store, at Prototype Hawaii, We Nod Japan, and of course Access Hip-Hop.
Recognize the store on the cover?