VETV premiere!! DJ Stef's online video magazine
Do yourself a favor and check out the premiere episode of DJ Stef's Vinyl Exchange TV.
Touted as a "
a new online interview series for hip-hop vinyl junkies," we consider this SF based video magazine a must-see.

I'd like to note that we were pleasantly surprised by the quality of the production and highly amused by the Eddie K and Marz segment. And no, we have no affiliation to VETV, but if the premiere is any indication, we're expecting big things!
"The premiere episode of VETV features emcee Eddie K and DJ Marz, Future Primitive Sound's creative director Mark Herlihy with DJ RasCue, and Cool Chris of Groove Merchant, who all call the Bay Area home.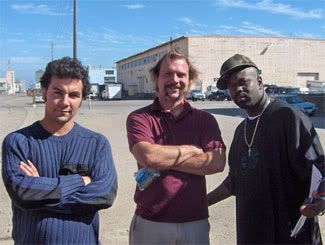 Eddie K is the emcee for the Bullet Proof Scratch Hamsters/Space Travelers DJ crew with DJ Quest, Eddie Def, DJ Cue and DJ Marz. In this episode of VETV, he talks about coming up as an emcee, fills us in on his latest projects, and he and Marz offer a peek into the Gurp City experience. Get your cups and ice ready for a What It Do or Cutty Bang cocktail.


Mark Herlihy is the mastermind behind Future Primitive Sound, a record label and collective of DJs (including DJ RasCue), producers and visual artists born from the infamous Future Primitive Soundsessions, the series of cutting edge DJ events that brought the DJ to the forefront. Mark talks about the history of Future Primitive, their latest releases, and RasCue pulls his favorite record out the crate.


DJ Cool Chris owns the Groove Merchant record shop on Haight Street, made famous by the Beastie Boys in song, but mostly famed in the vinyl digging world by DJs and producers who recognize GM as one of the top spots in the world to cop the rare vinyl they're looking for. Chris also runs the Dis-joint Records label with his partner Vinnie Esparza. Chris breaks down the history of Groove Merchant and shows us a sampling of the rarities GM has to offer."
http://www.vetv.us/
http://myspace.com/vetv