The History of Los Angeles Graffiti Art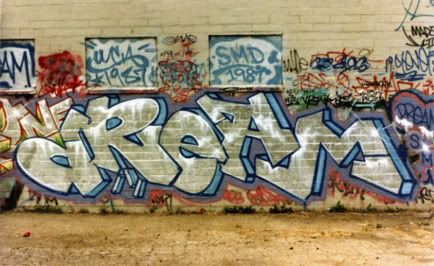 In other news of regional graffiti movies....

It's nice to see Los Angeles documenting important happenings in it's long history of art and culture. I would love to see a book of photography at the caliber of a

Martha Cooper

or

Joe Conzo

with a lens pointed towards the West, but I digress!

This set at $49.99 (shipping included in the US) seems a bit pricey at first, but i'm told that the collection is top notch, and includes both a 444 page book and DVD.

Los Angeles residents:
We will be announcing our Los Angeles All-City Book Signing Tour schedule by April 9, 2006.
"The History of Los Angeles Graffiti Art, Volume 1, 1983-1988 is the first book in a series of four books that will cover the years 1983 to 2005. Volume 1 is based on the years 1983 to 1988 and is the starting point to the real story behind the movement that began in the early 1980s. The book documents all aspects of Los Angeles Graffiti Art, while keeping it real and uncut. Some pictures may seem familiar, while others may not. This book will provide you with an unbiased look into this world through the eyes of the people that have lived it.
Within the book, you will discover the truth behind the photos and stories. All interviews and DVD slideshows are uncut and real. It's exciting and fresh to the point of understanding our culture, without cutting it up."
http://www.thehistoryoflosangelesgraffitiart.com/