Factor - 13 Stories URB 4 star review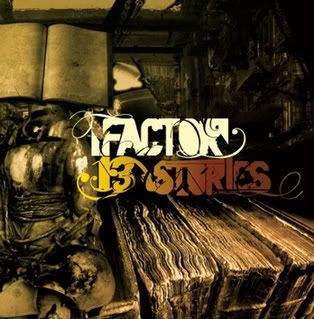 Oooh That's Heavy
does it again this time with what I believe is their first CD release. Well known for their beautiful, limited edition picture discs, this time around they drop Factor's brand new full length
13 Stories
. From what I've heard a vinyl EP of some of the songs will also be released on pic disc later this year.
01. Sounds Good To Me (Hip Hop) feat. Ellay Khule, Medusa and Joe Dub
02. Don't Jock The Dead feat. AWOL One and Sole
03. Batteries Not Included feat. Onry Ozzborn
04. Black Fantasia feat. Sunspot Jonz
05. Keep It On track Now feat. Sleep
06. Money In The Bank feat. Existereo
07. In Through The Alley feat. Cam The Wizzard
08. Pulling The Wings Off Of Angles feat. Nolto
09. Vicious Cycle feat. Icon The Mic king
10. Luck Ducks feat. Def3
11. Tell Me feat. NoCanDo
12. Sinking Ship feat. Kay The Aquanaut
13. Sacrifice feat. Noah23
All beats produced By: Factor
URB gives it a hearty four star stamp of approval in a review
here
.
www.myspace.com/othrecordings