Myka Nyne & Factor - 1969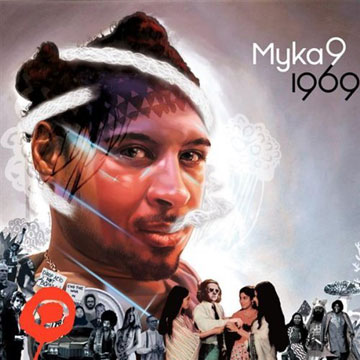 I have to admit I've stopped checking for a lot of artists I used to love over the years. Whether this is because their music has degraded in to a sloppy mess, taken on a new, decidedly hapless direction, or most commonly because they have nothing IMPORTANT or INSPIRED left to say, one artist I will always keep checking for is Myka Nyne of Freestyle Fellowship.
"1969" the new album by Myka Nyne and Factor is pretty incredible, and I say this as someone who has heard the album. Definitely worth picking up and having in your collection. Tracks run the gamut from the melodic rap that defines Myka's best and brightest work, to the hard chop fest on songs like Chopper featuring Busdriver. Factor does not disappoint with production that enhances, heightens, and complements the many moods of Myka Nyne.
Album drops on 1/20/09 Myka's birthday. Art by Alyum of Lazarus Pit. Dropping on Fake Four Inc.
Check out the other streaming tracks on
Myka's myspace
page.
Download "
Real Song
" via
Grandgood
's blog post.
Read about
the tour
featuring Myka Nyne, Factor, Sole, Ceschi, Def3, and more, post also courtesy of Grandgood who stays on top of things way better than I.
Tracklisting