Deeskee and Existereo - Hopeless Crooks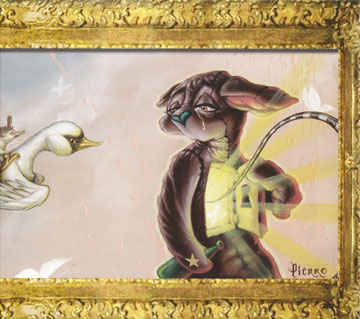 The Deeskee and Existereo cd

Hopeless Crooks

is finally out. It has an all-star list of featured artists and album art by Craola. Don't sleep on the excellent t-shirt+cd deal over at la2thebay.com.
Two of LA's finest connect to make a heavily expansive and eclectic album. Deeskee has been twisting knobs for quite some time now, producing for handfuls of groups and MC's including 2Mex, The Shapeshifters, Josh Martinez, Tommy V, Neila and countless others. Existereo, has been around for a long time, MC'ing as a member in a number of groups including Shapeshifters, Overfiendz, WhyKnows and most recently Candy's .22. Together they have created an album that not only gives glimpses of their previous efforts, but also offers great insight into their musical taste. A little something for everybody on this one, not to mention a nice line up of guests including $Martyr, Medusa, Myka Nyne, barfly, Mickey Avalon, and more!
hopeless crooks t-shirt and cd pack
soundclips