Joe Dub: ATAK/truehiphop.com artist of the month
"
Joe Dub is our featured artist of the month, so be sure to check out his Young Joseph, Old Joseph, San Francisco Street Music (SFSM) and Ellay Khule releases! Email Paul@truehiphop.com to get on the weekly email update list! Vote Vegan for 2008! — 02.10.08"

We were hyped to learn that Joe Dub is the artist of month over at
ATAK/truehiphop.com
headquarters. Joe's first group San Francisco Street Music alongside collectives like the Living Legends, and Nitrous Ox, were among the first groups to grace the earliest of ATAK's hallowed catalog pages.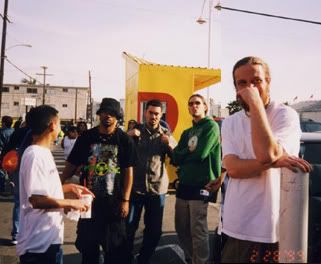 ATAK was one of the first underground mailorder spots, taking a DIY approach to music distribution and taste making, to a new level. Paul Gembus a.k.a. P-minus spearheaded the project, which in my opinion, was instrumental in informing the masses of the quality music that was being made right in their backyards.

In those halcyon days, when music was amazing but disorganized, i.e. artists selling tapes straight out of their cars and backpacks, P-minus provided a structure that allowed for the scene to thrive in the Bay Area and beyond.
Read the rest of my original post
here
truehiphop.com
atak's wiki page
Labels: atak, truehiphop.com